While there may be other people who've written a Groundhogg Review, you'll want to read this one and see the video I've posted below. By the end of the article, you'll know exactly why I believe it's the Best CRM in the market for WordPress! And why the American Business Awards gave Groundhogg a Gold Stevie Award for in the CRM Small Business Category.
I've been training businesses and their teams in digital marketing since 2001.  So, back in the day of "internet marketing" (I'm showing my age because now everyone refers to it as digital marketing), email marketing was about blasting out as many emails as you can. This was the pre-spam era, where marketers had little ethics when it came to email marketing.  It was the wild west of email blasting!
Fast forward to 2021, the industry has evolved greatly. And spamming has been replaced with strict compliance and regulations. Now, the biggest problem small business owners face when choosing a CRM is making sense of all the options they have and finding a good fit.  I've been consulting for hundreds of small businesses on making good digital marketing choices, and choosing the right CRM is a big piece of the picture.
As a digital marketer, I work with a variety of CRM's like Active Campaign, Keap, and HubSpot to name but a few.  Yet, for small business owners who have a WordPress site, 99% of them will agree the right CRM choice is Groundhogg.
Let me share with you 2 case studies that may shed some light on why I like it so much.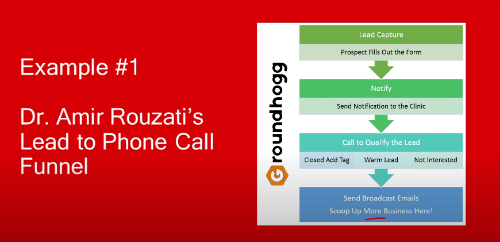 Client #1: Dr. Rouzati
Dr. Rouzati owns a local botox clinic. He has a couple of thousand clients that rotate through his clinic per year. As you know, its more expensive to acquire a new client then it is to nurture and keep the existing ones. If you can get your happy clients coming back, your clinic is generating positive cash flow.
Dr. Rouzati had been paying for Infusionsoft for a few years He was paying $297 USD per month or just over $3500/year.  He had maybe 5 campaigns that were really working for him.
New Lead-to-Consult
Existing Client – Nurture Campaign
New Lead – to- botox training (for Dr.'s, and Nurses)
Birthday Campaign
Contact Us campaign
Dr. Rouzati came to our agency looking for help to promote his Botox Training. When we looked at his expenses, we realized that not only could we help him promote his botox training through the use of automation, we could also save him significant money by switching him to Groundhogg.
Now his yearly investment for WordPress CRM and Marketing Automation is only $480 per year (a savings of over $3000) for UNLIMITED contacts and UNLIMITED users. His only other expense was a small investment for Mailhawk to send his transactional emails. It was a no-brainer.
That's a $1400/year Savings even with the Pro Plan!
The migration to Groundhogg was effortless and the new campaigns work beautifully. Dr. Rouzati's business felt zero pain. In fact, the marketing of his BOTOX training continues to be so successful and we launched a new site just for the BOTOX training alone.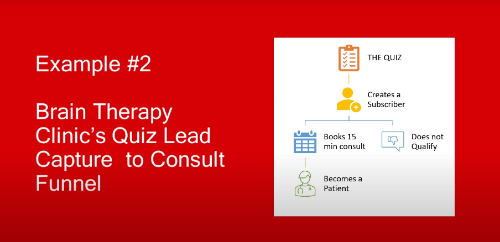 Client #2 Brain Therapy Clinic
This clinic was rebranding from The Posture Clinic to the Brain Therapy Clinic.  This clinic was already busy and didn't require us to buy ads to keep his clinic hopping. So we had to think of organic and innovative ways to keep the supply of interest up and constant.
This clinic was now focusing on a new type of patient. The new patient presented with brain injuries due to vehicle accidents, sports accidents, falls, etc.  Concussions were now being accepted through the world as a "real thing" as opposed to an "imagined" injury.  And this particular doctor was getting magnificent results. Word of mouth spread and now his reputation precedes him. Our job was to keep him well-filled with new leads.
The first thing we did, is we switched them from Infusionsoft to Groundhogg to save them money.  The second thing we did is build them a "Do You Have a Concussion Quiz". The form offers results based on conditional logic.  The automation follows up with the patient to either refer them to seek immediate medical assistance or book an appointment. Based on this success, we also created a great app for him.
All of this is managed on his server which is HIPAA compliant. It meets privacy compliance. It is GDPR compliant (should you market in the EU), and so on. It is a great organic way to attract a steady stream of patients to the clinic using Groundhogg and Thrive Quiz Builder.
More Example of Our Clients Who Rely On Groundhogg
We did this Groundhogg Review for many clients, and after doing their analysis and comparison. Here are other companies in our portfolio that use Groundhogg.
Kenworth Ontario (retail big rigs)
Gardner Dental (dental clinic)
George Zimbel Photography (artist/entertainment/publishing)
Expedia Travel Ottawa (travel industry)
McGuire Financial (financial industry)
Bayview Golf and Country Club (sports & recreation)
As you can see, this is a wide variety of Groundhogg Review examples.  
Why do I like it so much?
My TOP 10 Reasons to Get Groundhogg
Let me countdown my Top 10 REASONS why my GROUNDHOGG REVIEW get's top points!
10. Its fast.  Groundhogg is a plugin that resides in your WordPress installation.
9. Email builder is simple but effective. 
8. I can connect it to any SMTP service I want which is great for when clients scale.
7. I can apply my own tagging system. If you are not familiar with tags, that where the real power of Groundhogg is in terms of segmenting your lists and sending automated messages.
6. I can set up unlimited custom fields and put that content anywhere on a website or in an email – dynamically!
5. I can connect to any advertising system like Facebook ads using Zapier and/or webhooks.
4. I can apply event listeners that pick up what is happening in other softwares that I'm connected to.
3. I can use the amazing booking calendar which saves me a lot of money on 3rd party appointment schedulers like Calendly.
2. Customer Support is awesome in my opinion. Don't take my word for it, look at all the Groundhogg reviews in the WordPress repository. 
1. Because there is no success tax! You save tons of money. It doesn't matter how much you grow, it's still the same price! 
If you would like to speak with us about how Groundhogg can work for your business, click here to book some of my time.
If you've read this far, thank you for doing your homework. We're creating this content for you!
From time to time our company does post affiliate links and we may earn a small commission if you buy something – at no extra cost to you.
And, please vist our Youtube Channel for more Groundhogg CRM business tips and case studies.